This shop has been compensated by Collective Bias, Inc. and its advertiser. All opinions are mine alone. #LEMLoveToProcess #CollectiveBias
Making sausages at home is easier than you'd think! These savory and spicy Thai Red Curry Sausages are full of delicious flavors – try it for your next cookout or tailgating party.
Last year, we decided that we wanted to try making our own sausages with wild game meat. Somehow we thought it was a good idea to go to the hardware store and pick up some heavy duty funnels for stuffing. The sausages we made – jalapeno cheddar and Thai curry elk sausages – tasted delicious, except it took two people a good six to seven hours to make one batch!
It's elk hunting season in Wyoming again, and for the past two years we've been grateful to be able to fill our freezers with wild game meat James and his family procured. We use the elk filet for steaks and the ground meat to make burgers from time to time, but my favorite way to use the meat is to make sausages!
Making sausage at home is not as intimidating as it sounds and the results are so rewarding. When you make your own sausages at home, you can experiment with different meats and seasonings catered to your tastes and preferences. There's nothing like serving up a plate of sausage and knowing absolutely everything in that meat is something you wanted in the mix. Nothing but your game and your choice of seasoning.
After learning our lessons the hard way, this year we're back at it again but doing it the right way. Let's just say making these savory and spicy Thai red curry sausages at home was a breeze with LEM Big Bite® Sausage Stuffer! The stuffer has a sturdy stainless steel frame and is very durable, withstanding the pressure needed to stuff even small sausages.
 There are two speeds to choose from: the high speed makes it easy to raise the piston, and the low speed is used for stuffing sausages. The stainless cylinder is removable for easy filling and cleaning. There's also an air release valve in the piston to ensure even pressure and better results.
To start, I use a meat mixture with a ratio of 70% meat and 30% fat, which produces sausages with great consistency and flavors. Since elk meat does not have a lot of fat to them, you might want to mix in some ground pork fat (or ask your butcher to grind up some pork belly). For you hunters out there, feel free to use venison, wild boar, or other game meat you might have!
Next step is to prepare the filling. To make sure the seasoning is absolutely perfect before stuffing, you should fry up a small patty for a taste and decide if you need to adjust the seasoning. I probably do this a couple of time until the flavors are just right, so that I don't end up with a big batch of underseasoned sausages.
Start stuffing the meat mixture into the casing by pushing down on the piston as the casings fill. Leave an inch or so of casing in the end before you start filling. Once the meat starts feeding into the casing, push out the air at the end and tie a knot. The slow speed setting comes in handy here just take your time and make sure the mixture is packed consistently but not too tightly. It takes some practice but the key is to not stuff it so tightly (sausages will burst during cooking), but also not too loose because there will be air pockets.
Here are some more tips on stuffing sausages:
Make sure the casing is soaked well before trying to thread it onto the sausage stuffer, otherwise you can risk tearing the casing.
When filling the cylinder with seasoned meat, make sure you pack it down to remove air pockets before lowering the piston.
The sausages may shrink during cooking, so be sure to decide on the size accordingly.
We prefer to use kitchen twine to tie off the individual sausages as they form. You can also make a big coil of sausages and twist them into sausages, but this only works well if you know you'll be cooking them all at once. It's not a good idea to trim off the sausages while you're cooking because all of the meat juice and flavors will escape.
Once the sausages are stuffed, you can hang them in a cool spot or refrigerate overnight. And then either cook them on the stove or grill (or in the smoker if you prefer a smoky taste) or freeze them for later. l served these by boiling them in water (or your favorite beer) and finishing them on the grill. A couple of pretzel hot dog buns, caramelized onions, and whole grain mustard is all you need!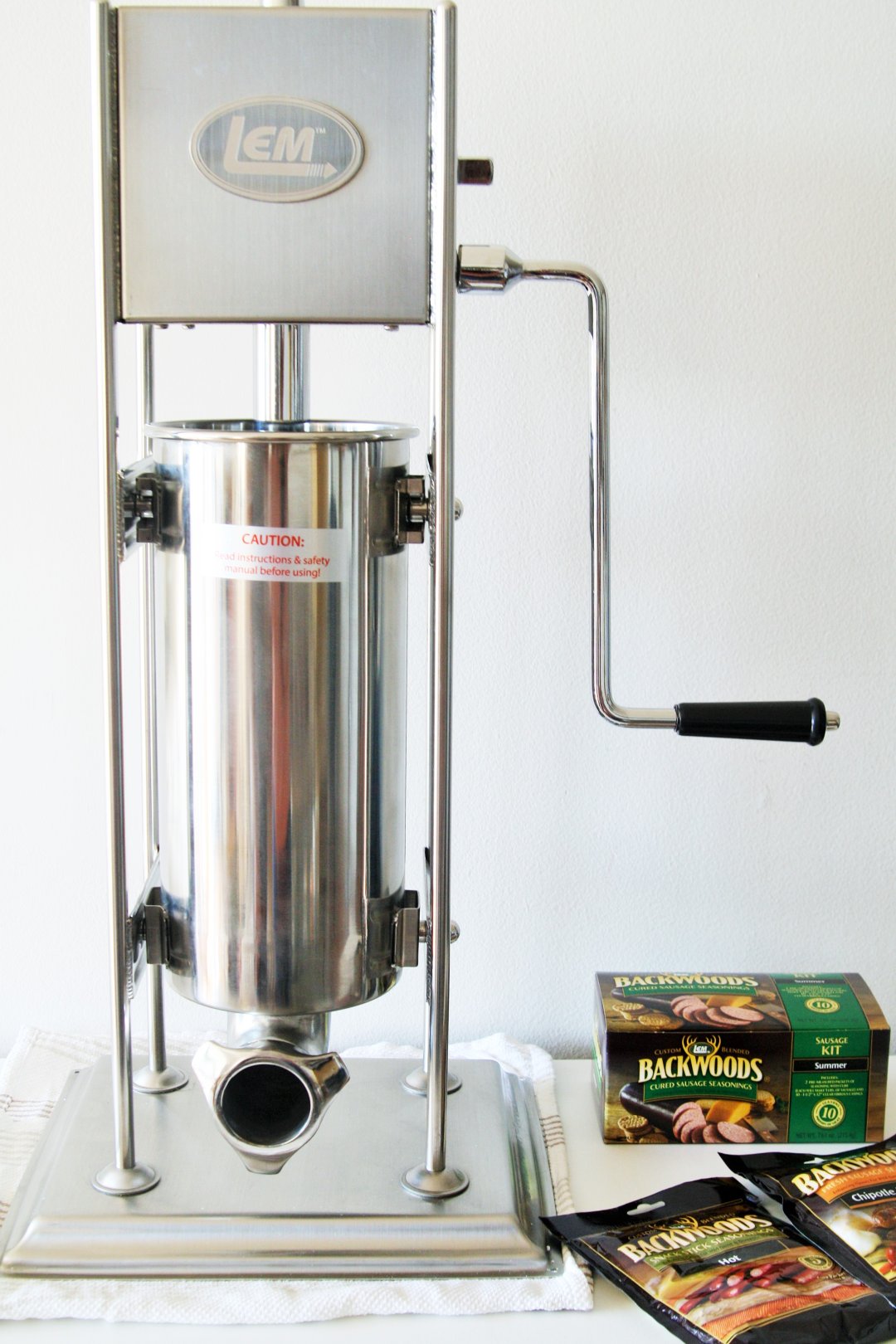 In addition to the sausage stuffer, LEM makes it so easy for us with a wide selection of seasonings and kits, all of which can be purchased online. You can hover over the photo above to click through to LEM.com and buy it. In addition to the Thai Red Curry Sausages, we also made some chipotle bourbon sausages, snack sticks, and summer sausages too! Those would make great food gifts, just imagine serving this along with some cheese? Yum!
Making your own sausages is simpler than you'd have thought, and I bet once you taste fresh homemade sausages, you'll be planning to make your next batch!
Stay connected with LEM on Instagram, Youtube, Facebook, and Pinterest for more meat processing inspirations.

Thai Red Curry Sausages
Making sausages at home is easier than you'd think! These savory and spicy Thai Red Curry Sausages are full of delicious flavors - try it for your next cookout or tailgating party.
Author:
Karen @ The Tasty Bite
Ingredients
2 lbs ground elk, venison, beef, or pork (see notes below)
1 small shallot, minced
3 cloves garlic, minced
2 tbsps fresh cilantro, chopped
2 tbsp Thai red curry paste
1 tbsp soy sauce
½ tbsp brown sugar
1 tbsp cornstarch
Salt and pepper, to taste
About 4-5 feet of fresh sausage casings
Instructions
Rinse off excess salt from the casing and soak in warm water for 30 minutes.
Meanwhile, in a large mixing bowl combine ground meat, shallots, garlic, cilantro, red curry paste, soy sauce, brown sugar, and cornstarch until well blended.
Prepare the sausage stuffer and casings. Stuff your sausage mixture into the casings as directed. Once all the sausage mixture has been used twist the sausage into links and tie off the end of the casing.
Sausage can be cooked on a grill, in a skillet, or boiled. If not using right away, sausages can be stored for up to three days in the refrigerator or one month in the freezer.
Notes
*Before stuffing the casings, cook a small amount of the sausage mixture to make sure the seasoning is correct. Some curry paste will be more salty than others.
**Use a meat mixture with a ratio of 70% meat and 30% fat, which produces sausages with great consistency and flavors.