Huitlacoche and Pepper Jack Quesadillas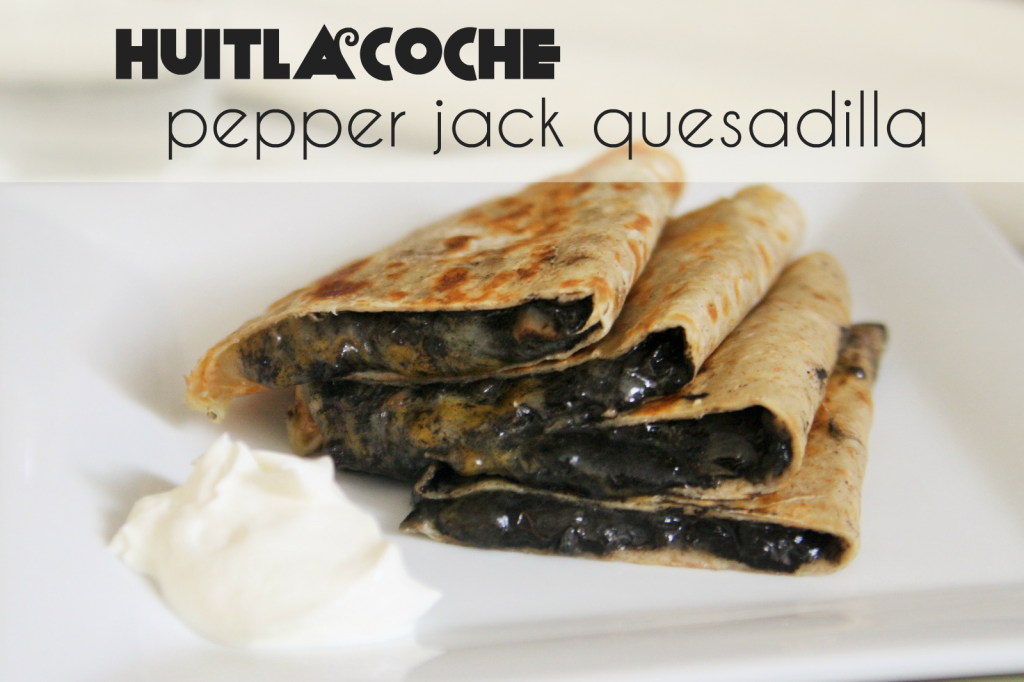 2 tbsps vegetable oil
1 small onion, chopped
1 lb fresh or canned huitlacoche
1 serrano chile pepper, finely chopped
1 tbsp fresh epazote, finely chopped (optional)
Salt and pepper, to taste
12 oz pepper jack or any other melting cheese blend, shredded
12 small corn or flour tortillas
Heat oil in a large saucepan and cook onions until they become soft and translucent. Add huitlacoche, pepper, and epazote, and cook for about 5 to 7 minutes, or until most of the liquid from the huitlacoche has reduced. Remove from heat and season to taste with salt and pepper.
Heat a griddle or large skillet over low heat, and warm both sides of a tortilla until it is softened. Spread a few spoonfuls of huitlacoche and a handful of cheese on one half of the tortilla, and fold over into a half-moon shape.
Cook both sides until tortilla is toasted on both sides and cheese has melted. Repeat with the remaining tortillas.
Cut quesadillas into wedges and serve warm with fresh salsa or guacamole.
**Epazote is an herb common to Mexican cuisine. If you can't find fresh epazote, you can substitute with ½ tablespoon of dried epazote, or leave it out entirely.
Recipe by
The Tasty Bite
at https://www.thetastybiteblog.com/huitlacoche-and-pepper-jack-quesadillas/