Lemon Yogurt Pound Cake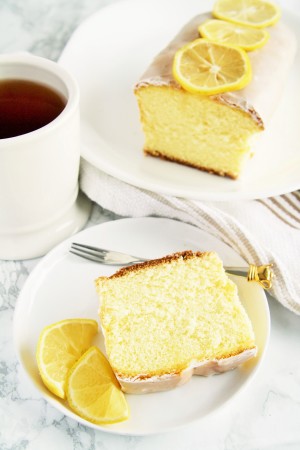 Author:
Karen @ The Tasty Bite
1½ cups all-purpose flour
2 tsps baking powder
½ tsp salt
1 cup yogurt
½ cup vegetable oil
2 tbsps fresh lemon juice
3 large eggs
1 cup sugar
2 tsp grated lemon zest
1 cup confectioners' sugar
2 tbsps milk
Preheat oven to 350F. Grease and flour a 8 by 5 inch loaf pan.
In a bowl, whisk together flour, baking powder, and salt. In a large mixing bowl, whisk together yogurt, vegetable oil, lemon juice, eggs, sugar, and lemon zest. Slowly whisk in dry ingredients and mix until well combined.
Pour the batter into the prepared pan and bake for 45-50 minutes, or until a cake tester inserted in the center comes out clean.
To make the glaze, whisk together confectioners' sugar and lemon juice. Pour over the cake and let set before serving.